Home
"Come to Oaks Welding for Machining, Welding, or Forming Steel."
Oak's Welding has the capabilities for any type of industrial manufacturing: Bending, Boring, Broaching, Counter Sinking, Drilling, Grinding, Hard Surfacing, Honing, Milling, Parting, Plasma Cutting, Pressing, Punching, Reaming, Sawing, Shearing, Tapping, Threading, Turning, Welding, and More.
Steel Distribution
Oak's Welding can supply your company with the metal you need at minimal cost! Whether you need steel, aluminum, stainless, brass, bronze, or copper we have it. Also purchase metal in the form you need; round bar, square bar, flat stock, angles, channel, I-beam, round and rectangular tubing, or pipe.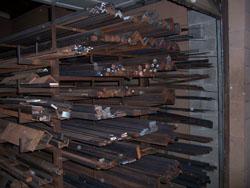 Submerged Arc Welding
Our specialty is submerged arc welding and hard surfacing. We operate five NA-5S Lincoln Electric automatic welders with digital meters and a solid state control system. Typical rebuild jobs include undercarriage rollers, crane wheels, and steel mill rolls. Also we rebuild shafts that have worn bearings or damaged threads for machining. We are known for affordable and well-built sub arc surfacing, so give us a call for a quote, and reduce your costs!
Machinery Repair
Oak's Welding has over 60 years of experience servicing the repair needs of the Tri-state area as well as jobs all over the country. We have experience repair farming equipment, usually at a fraction of the manufacture's price, and we can reinforce parts to be stronger.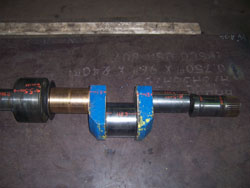 ---